Polish Anti-Doping Laboratory (previously Department of Anti-Doping Research of Sport Institute -PIB) has been accredited by the World Anti-Doping Agency WADA since November 2004 and is amongst the 32 of such laboratories around the world.
Polish Anti-Doping Laboratory operates both in Poland and internationally. It carries out a wide-ranging cooperation with Polish, Ukrainian, Belarusian and Lithuanian Anti-Doping Agencies.
In addition to anti-doping samples analysis, the Laboratory supports the Athlete Passport Management Units (APMU) operating at the Laboratory.
The Laboratory, in accordance with the rules of the International Standard for Laboratories, provides toxicological services to the police, prosecutors' offices and similar entities and hospitals.

CONTACT

ORGANIZATION

THE LABORATORY COUNCIL

STATUTES
Polish Anti-Doping Laboratory
Księcia Ziemowita 53 bud 4 street
03-885 Warsaw
Phone: 22 290 29 05
Fax: 22 290 29 04
e-mail: This email address is being protected from spambots. You need JavaScript enabled to view it.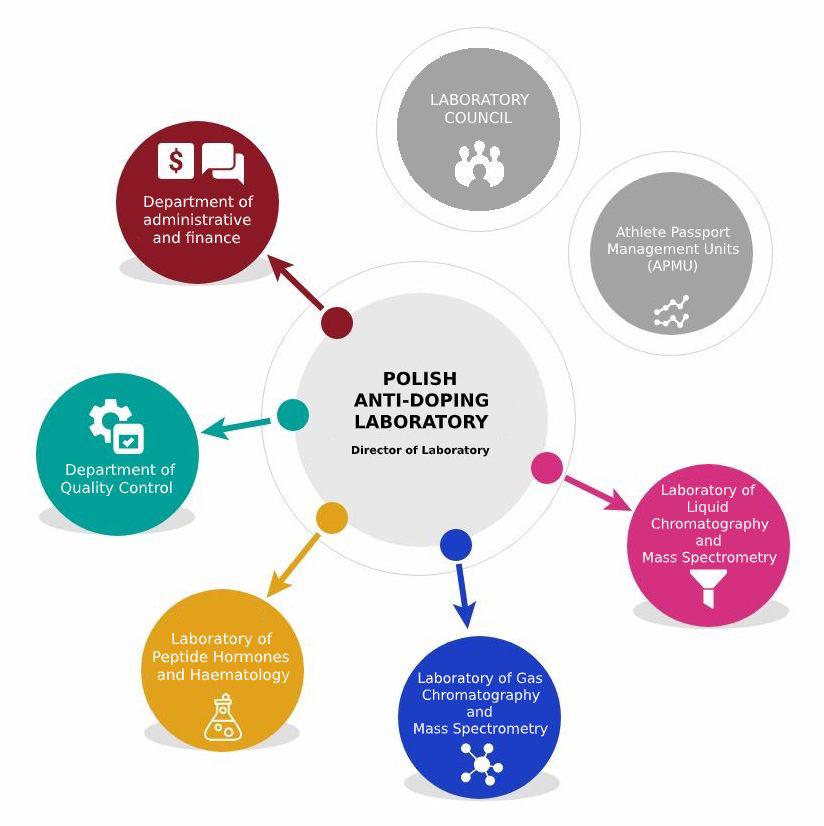 On January 1, 2019, the Minister of Sport and Tourism appointed members of the first Council of the Polish Anti-Doping Laboratory. The Council consists of:
As representatives indicated by MSIT:
Mr Marek Mędraś- Chairman of the Board, education: Professor Dr hab. of medical sciences, specialization: Internal diseases, endocrinology. Employed since 1996 as an associate professor at the Academy of Physical Education in Wroclaw, scientific research: e.g. In the field of sports medicine including the problem of androgenic-anabolic doping (effects on male gonadal activity), certain aspects of anti-doping control or issues concerning bone mineral density at individuals cultivating different sports;
Mrs. Natalia Pawlas – Deputy Chairman of the Council, education: Dr hab. of medical sciences. (Specialty Pharmacology), Specialization: Occupational medicine and Clinical Toxicology, employment: e.g. Silesian Medical University in Katowice, Head of the Cathedral and the Pharmacology Department;
Mrs. Marta Nowacka-Chmielewska – education: Master of Biotechnology, Dr of medical sciences. (specialization: neuropsych pharmacology), employment: AWF in Katowice, Position: Head of the Molecular Research Laboratory, assistant professor at the Department of Physiotherapy of the nervous and organ movement, and Silesian Medical University in Katowice;

As representatives indicated by other departments:
Mrs Ewa Sobiech – Chief specialist in the Ministry of Health;
Mr Tadeusz Bednarczyk – Senior specialist at the Ministry of Science and Higher Education
Statut

Rozporządzenie Ministra Sportu i Turystyki z dnia 22 stycznia 2019 r. w sprawie nadania statutu Polskiemu Laboratorium Antydopingowemu

USTAWA z dnia 21 kwietnia 2017 r. o zwalczaniu dopingu w sporcie

USTAWA z dnia 6 grudnia 2018 r. o zmianie ustawy o zwalczaniu dopingu w sporcie

USTAWA z dnia 27 listopada 2020 r. o zmianie ustawy o zwalczaniu dopingu w sporcie

USTAWA z dnia 2 grudnia 2021 r. o zmianie ustawy o zwalczaniu dopingu w sporcie

USTAWA z dnia 2 grudnia 2021 r. o zmianie ustawy o zwalczaniu dopingu w sporcie - tekst ujednolicony